2855 Mitchell Drive
Suite 210
Walnut Creek, CA 94598
CATEGORIES & HEADINGSdetails >>
Business Services //
C-Store Equipment //
Facilities //
Heathco Cash Management

Heathco International offers a multi-faceted line of cash handling, cash validating and conventional safes. For over 30 years, Heathco has been providing customers with innovative cash management solutions for their businesses and is considered a top distributer in the cash management industry.
Cash management can be a serious financial liability: employee theft, armored car fees, bank fees, lost deposits, and labor costs are all side effects of handling cash irresponsibly. Heathco can help you take control of your cash management process with our extensive line of security products. From simple drop safes to the most advanced cash-handling technology available, we have a solution to meet your needs and your budget. We have made it our business to protect your assets.

Vendor Showcase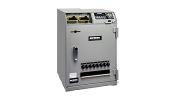 Great All-In-One Vending/Validating Solution

Configurable with Single or Bulk Note Feed MEI Validators

Configurable with 1200 or 2200 Note Cassettes

96 Tube Dispensary

Up to 240 users and 188,000 lines of transactions

1 Year Parts and Labor Manufacturer's Warranty

Call your Armor Distributor, Heathco International, at 1-800-731-2441 or email us for a quote!
read more